Top 5 Email Extractor Extension for Chrome
Are you an email marketer? Or struggling while extracting the most relevant emails? You don't have to worry about it any more; the email extractor Chrome extension will provide you with well-researched emails.
Looking to streamline your email marketing campaigns or generate leads for your business? Meet the email extractor extension for Chrome– a powerful tool designed to extract email addresses from various online sources, helping you build a robust email list quickly and easily.
So, why waste time manually collecting email addresses when you can let an email extractor Chrome extension do the job for you in minutes? Get started now to make full use of the email scraper for Chrome.
What is an Email extractor?
An email extractor is a software tool or program designed to automatically extract email addresses from various sources such as websites, social media platforms, online directories, and other online resources. The extracted data can be used for multiple purposes, including email marketing, lead generation, data analysis, and research.
Advantages of using email extractors 
Extract emails from web pages
Cost-effective for business
Works efficiently for big data
List of top 5 email extractor Chrome extension
Attention all email marketers! You now have the opportunity to avail the advantage of the email extractor Chrome extension, which offers a range of incredible features designed to extract emails from web pages. With this tool at your disposal, you can easily access emails from different social media platforms for your needs.
Here is a list of the best email extractor extension for Chrome which will help you in the extraction of emails from different sources.
| | |
| --- | --- |
| Sr.no | Best email extractor Chrome extension |
| 1. | AZ Email Extractor |
| 2. | Email Extractor |
| 3. | Hunter – Email Finder Extension |
| 4. | Lusha |
| 5. | Skrapp.io – Email Finder |
1. AZ Email Extractor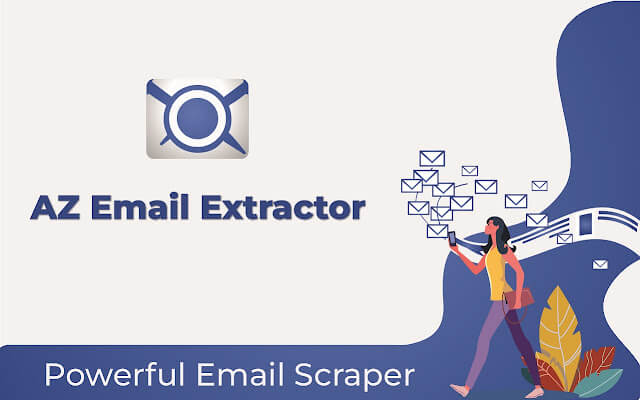 Tired of collecting email addresses manually? Meet AZ Email Extractor! This powerful email extractor Chrome extension automates extracting email addresses from websites, social media platforms, and online directories in a snap. Its advanced algorithms and user-friendly interface make it the perfect solution for marketing campaigns and lead-generation efforts.
Whether you're a small business owner, marketer, or researcher, the email extractor extension has the features you need to collect the most suitable emails for your profession.
Unique features of AZ Email Extractor
Easy export
Text or CSV File format
Interactive UI
So why wait? Try AZ Email Extractor today and discover the power of automated email extraction!
2. Email Extractor
Extract your searched emails in an easy and effective way. This email extractor extension for Chrome has multiple features to sort and filter out the best emails for you. This amazing extension also provides auto-saving of the data on the cloud. The data is generally extracted from HTML web sources, so the accuracy of the collection becomes high, and the data is effective and accurate.
So why waste time manually when you can work smartly? Download the email extractor extension today and elevate your email marketing to the next level!
Amazing features of the Email Extractor extension
Auto-saves emails on the cloud
Filters duplicate emails
Offline support available
Advertisement Free
3. Hunter – Email Finder Extension
Hunter- Email scaper for Chrome is the best email extractor extension, which offers a trial for a limited period. The Hunter email extractor provides the most suitable contacts, profiles or emails from various sources such as websites or LinkedIn and saves data on the cloud or your device.
Still, Thinking? Download the perfect email extractor extension for Chrome.
Features of Hunter-Email Finder

Trusted by 600K+ users
Easy extraction of the data
Easy-to-toggle
50 free searches/per month
4. Lusha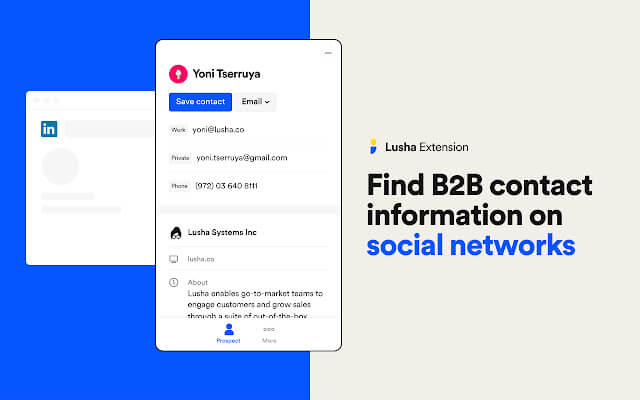 Do you want the most accurate contact data without any effort? With Lusha's advanced features, you no longer have to make extra efforts to obtain accurate contact data from online sources. The days of putting in manual labour are long gone. So enjoy smart work over hard work with the email extractor extension for Chrome.
Exciting features of Lusha
Secure to use
Export contacts directly | CRM/MAT
Filters duplicate emails
5. Skrapp.io – Email Finder
Skrapp.io is your go-to tool for finding email addresses of potential leads and contacts effortlessly. With its advanced web crawlers and user-generated data, Skrapp.io helps you build your email list and connect with potential customers or partners in a snap. And with the added convenience of its LinkedIn Chrome extension, finding email addresses has never been easier!
Notable features of Skrapp.io
Only extracts verified emails
Linkedin contacts
150 credits/month
Conclusion
Are you tired of doing hard work while searching for appropriate email addresses? Well, you can skip hard work now because the email scraper for Chrome will do all this for you. With just some simple clicks, you can download the most appropriate and accurate data with email extractors.
In the article, there is a detailed description of the top 5 email extractor extensions for Chrome. The email extractors provide a powerful and efficient way to collect email addresses for your marketing campaigns or lead-generation efforts. Each of these extensions has its own unique features and benefits, allowing you to choose the one that best suits your specific needs. So whether you are looking for a free source or a more advanced, feature-rich tool, an email extractor extension on this list will meet your requirements.
So why not try one of these email extractor extensions and simplify your email marketing and lead generation efforts today?